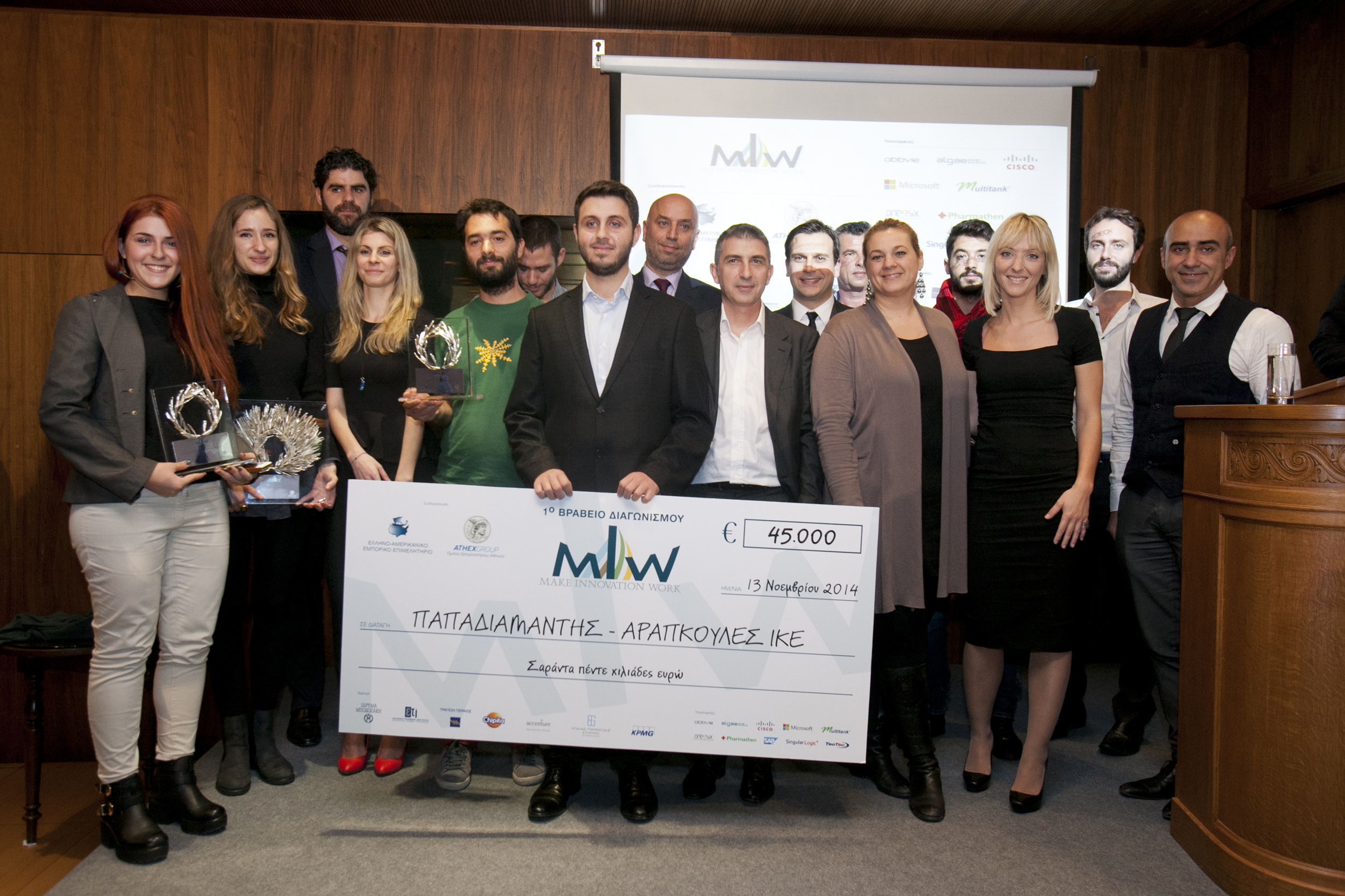 The American-Hellenic Chamber of Commerce through its Education, Innovation and Entrepreneurship Committee co-organized with the Athens Exchange Group and with the support of Greek and multinational companies Make Innovation Work, its 2nd pioneering global competition for innovative business plans.
The competition attracted 107 business plans from individuals and legal persons from Greece and from the global Greek Diaspora.
The awarding of the best business plan took place November 13, 2014 during a ceremony at the Athens Exchange Group premises in Athens.
Grand Prize
Title: "Solar Power Kit"
Team Representative: Nick Arapkoules
Best Proposals, by sector
i. Alternative Agriculture
Title: "Radiki"
Team Representative: Sotiris Lyberopoulos
Summary
Production of dried herbs and selling worldwide.
 ii. Energy & the Environment
Title: "Solar Power Kit"
Team Representative: Nick Arapkoules
Summary
A ground-breaking way of exploiting solar energy - Having developed an innovative technology, able to exploit the waste heat of solar thermal panels, the team aims to launch into the market, an electricity-producing device that will operate in cooperation with solar water heaters and produce significant amounts of electricity.
 iii. Transportation, Logistics & Shipping
Title: "Truckbird"
Team Representative: John-Marinos Papageorgiou
Summary
The first structured electronic cargo market in real time in Greece. The online platform Truckbird creates a structured electronic freight market in real time, connecting shippers and carriers of goods and such.
 iv. Tourism & Culture
Title: "Marine Travel"
Team Representative: Antonios Chalkiopoulos
Summary
A travel/tourism related product aiming to engage millions of users into a social platform that connects local businesses to wealthy tourists by providing enhanced experienced while on vacations. Marine Travel is a platform providing - 1. Weather forecasts, as that are essential to most touristic activities 2. Information points for access to location based information and services 3. A social platform to connect people with similar hobbies and businesses of interest to them
 v. Health & Wellness
Title: "Aurora"
Team Representative: Gregory Kotsikaris
Summary
An integrated electronic platform providers of imaging services (RIS / PACS) and medical collaboration between doctors, hospitals and medical centers with opportunities to network and health services, through which it is possible to exchange patient medical record data (Personal History, previous examinations etc.) With emphasis on imaging data, the ad-hoc support medical boards-partnerships.
Grand prize receives:
Financial prize of forty five (45.000) thousand euros
Free provision of software by specialized company, worth five thousand (5.000) euros

Free provision of consulting services, by a specialized company, worth twenty thousand (20.000) euros

Free organizing of two-hour presentations (road show) by specialized companies regarding four investment schemes operating in financing venture capitals, of a total length of eight (8) hours

Free provision of tailor made presentation of consulting services regarding business planning and strategy adoption and/or improvement, by experienced executives from the fields of two investment and development companies, total length of two (2) hours in minimum

Free provision of legal services in matters of corporate/ tax law/ intellectual and industrial property, by a specialized law firm, worth five thousand (5.000) euros

Free education seminar for up to four people from each of the five winners (20 attendees in total) from a specialized institute, total length of twenty four (24) hours

Free provision of a full public relations and digital public relations support of six months duration, worth twenty one thousand (21.000) euros