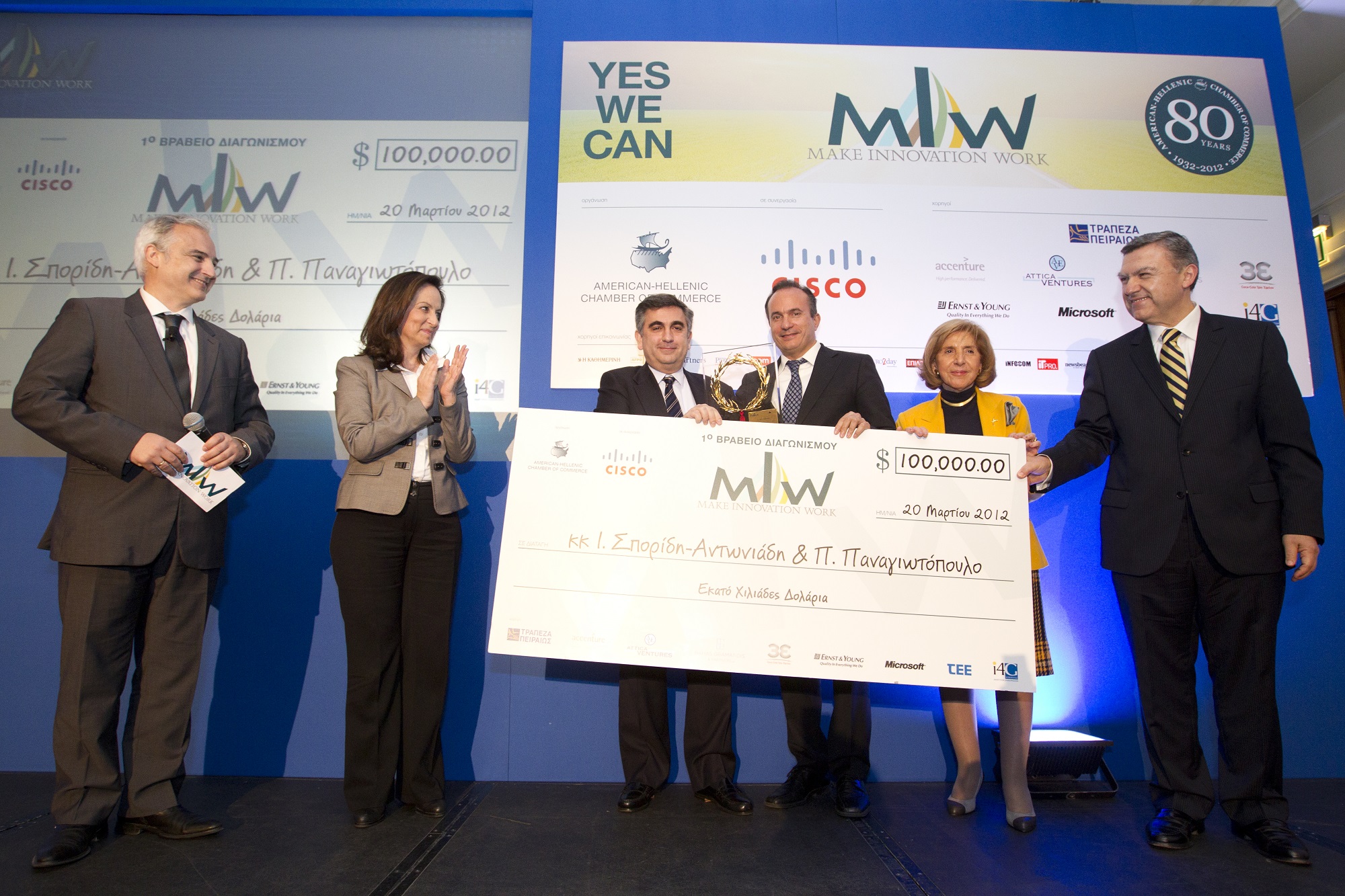 The American-Hellenic Chamber of Commerce through its Innovation and Education Committee in collaboration with Cisco and with the support of Greek and multinational companies successfully completed Make Innovation Work, its pioneering global competition for innovative business plans.
The competition attracted 273 business plans from individuals and legal persons from Greece and from the global Greek Diaspora.

The awarding of the best business plan took place March 20, 2012 during a ceremony at the Hotel Grand Bretagne in Athens.

Grand Prize
Title: "Production of algae biomass with high calorific value as an alternative fuel"
John Sporidis - Antoniadis & Panagiotis Panagiotopoulos
 
Best Proposals, by sector

Alternative Agriculture
Title: "Production of algae biomass with high calorific value as an alternative fuel"
Team Representative: John Sporidis - Antoniadis

Summary
The proposal aims to produce algae biomass with high calorific value which can be used as alternative fuel in the international market.

Green Energy
Title: "Multitank"
Representative: Christofyllis Douralis

Summary
Substitutes the use of barrels with the innovative multitank.
Innovative design and durability allow multiple re-use.
It increases the competitiveness of products and businesses. Significantly reduces required storage space, oil consumption and environmental pollution.

Transport-Shipping
Title: "Industrial System of real-time monitoring and optimization of the production of complex parts from high-performance carbon fiber"
Company: INASCO HELLAS

Summary
Industrial system of manufacturing high performance carbon fiber composite parts produced in autoclaves.

Tourism
Title: "Spring Farm Grevena"
Company: Spring Farm Grevena

Summary
Multi-level business unit, which, with hunting as its theme, creates a hotel operating 12-months and a unit of production and standardization of attractive livestock and agricultural products with significant nutritional value.
 
Awards

Cash Prize
The cash prize will be paid in Euros and will be equal to one hundred thousand United States dollars ($100,000.00), according to the Euro / U.S. dollar exchange rate on the day of the award.
 
Services
• Free provision of software services and technology support from a specialized company with a value of ten thousand (€ 10,000.00) Euros
• Free accounting and financial services support and advice from a qualified tax consultant lasting two hundred (200) hours
• Free two-hour presentation events (road shows) by specialized companies, for six investment schemes active in the financing business / venture capital, of a total of twelve (12) hours
• Free coaching services on forming/improving business planning and strategy, and company development, by experienced executives from the sector of ​​investment, totaling a minimum of four (4) hours
• Free legal services on issues of corporate / tax law / intellectual and industrial property law of by a specialized law firm, lasting thirty (30) hours